Let's talk about communication. See what we did there? All jokes aside, communicating is one of the most important things we do in our daily lives. On a bigger scale, proper communication is especially vital to organizations that deal with the public in one format or another. Nowadays, organizations can operate in a multitude of different linguistic communities. Each of these can require the use of different languages. Achieving the highest quality communication in a variety of languages demands professional translation services. Top-tier translation professionals often utilize a proactive approach that includes terminology management in order to ensure effective communication.
What is Terminology Management?
When it comes to translation, terminology management can guarantee the usage of correct terms in all materials and communications that come from an organization. Terminology should be consistent across all areas of a company, such as in product development and distribution.
In order to successfully manage terminology, one must collect the terms that are of specific interest to an organization. For example, a medical device manufacturer may utilize highly-specific medical terms. An engineering firm would need to master the translation of terms relating to materials and mechanical processes. Once the translation team collects the appropriate terms, a vital part of terminology management surrounds documenting the terms properly. In other words, identifying definitions, usage guidelines, product associations, and parts of speech. Terminology management can also guide both writers and translators toward using consistent language.
What is a Term Base?
An important part of terminology management is having a robust term base. A term base is a database where terminology is normally managed and published. Term bases can contain words and expressions that have specialized meanings. For example, these terms can be technical, scientific, market-specific, or political. The terms can also be ones that are prominent in any customer-facing materials. Such as slogans, names of products, features, programs, parts, and packaging.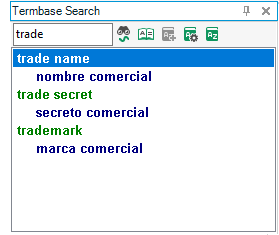 Term bases are commonly used within CAT tools, which can come in handy during the translation process as it allows translators to review just one document while working. During the translation process, the software can identify and highlight any terms that are already in the term base. The translator can then review the suggested translation that appears in the term base.
By utilizing a centralized term base, writers, and translators can work towards ensuring appropriate use of language throughout the organization. When working without a term base, you risk editors having to work through language problems with only their personal knowledge as a guide. This can lead to missing inconsistencies and issues with the text.
Term base management combines terminology work and database administrative tasks that support the systematic collection, description, processing, presentation, and distribution of information about the terms and linguistic units used throughout an organization. Parts of speech, grammar, context, usage notes, and definitions of terms can find a home in the term base.
What are the Benefits of Terminology Management?
Translators and writers clearly benefit from the usage of terminology management. These guides allow them to work quicker and increase accuracy. Those benefits can reach every area of an organization. Proper terminology management can help improve productivity, profitability, customer relations, and the public perceptions of a brand. Not to mention, you can potentially increase safety and lessen opportunities for confusion amongst your customer base. Consistency can also help improve an organization's professional reputation. This is why it's important to treat managing terminology as an ongoing project. As language and the needs of the organization evolves, it's significant that terminology management improves as well.