Day after day, everyone at Terra works together to make our company an amazing place to work. Which is why we are so thrilled to announce we've been certified as a Great Place to Work (GPTW). Terra Translations is the first translation company in Argentina to earn this certification and is now ranked between the best places to work in Argentina among organizations of the same size. We are so proud of all of the work our team has done to earn this certification.
What is Great Place to Work?
GPTW is an organization whose goal is to build a better world by helping other organizations become a great place to work. In order to get certified by GPTW, you begin by surveying your employees. Over the course of a two-week period, you'll complete their Culture Brief™ and participate in their Trust Index, which is a research-backed employee experience survey. Once you've completed both the Trust Index and the Culture Brief, you have to prove your organization meets GPTW's criteria for getting certified.
How Terra Translations Got Certified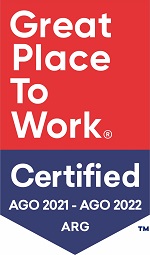 We couldn't be prouder to be the first Argentinian translation company to become certified. Natalia Quintás, our Director of Human Resources, was the one who worked towards getting Terra certified. She had previously worked with GPTW in multinational companies and had experienced the great impact that the model has to improve daily work life and the team relationships. She adapted some of what she learned internally at Terra back in 2018, by measuring our team member's satisfaction with an internal survey. Taking the insights gained from that survey, we implemented successful action plans. In 2020 she realized that it was time to begin to work with GPTW as partners in this process.
"I want to thank each member of our team for participating so honestly in this initiative and for being committed to building a Great Place to Work together," Natalia said, "This experience can only be created by a team that really wants to work in a healthy environment."
A Look at the Numbers
One benefit of becoming GPTW certified is gaining insight into how other organizations performed during the survey. As a female-founded company, we're so proud that 99% of our team members think that Terra is a workplace where people are treated fairly regardless of their gender. Organizations like ours (up to 250 staff members) had 78% of employees reporting they are offered training or development to further themselves professionally, while at Terra this thought is shared by 92% of the people. 97% of our team members also reported that when they look at what our team accomplishes, they feel a sense of pride.
Teamwork is a key part of why Terra is such a great place to work, which is why we are so proud that 100% feel that when it's time to close a deal with a client, it becomes a priority for everyone. This truly speaks to our commitment to delivering the best service and giving our best on every single occasion.
Here's a look at some of our other top rankings!
A Commitment to the Terra Family
We are happy to report that this is not the first time Terra's employee-centric culture has been recognized. In September of 2020, Terra received the Focus on the Future Award because of our commitment to culture.
"Terra has a great culture with remarkable values such as, proactivity, innovation, diversity, team spirit authenticity and trust and this certification gives us the opportunity to recognize it internally and externally and go deeper in our commitment to create a great place to work to each person that gets in touch with Terra and its team," Natalia said.
At Terra, people really matter. Our top priority is always the person and the experience that we have in our daily work. Terra is dynamic, flexible and understanding with each situation we have to go through and we are continuously adapting to accompany our team in their personal and professional journeys.